Kal Bhairava – The Drunken God
Kal Bhairava – The Drunken God
Bhairava is a fierce manifestation of Shiva. He is often depicted with frowning, angry eyes, sharp, tiger's teeth and flaming hair. He is naked except for garlands of skulls and a coiled snake around his neck. He is often shown accompanied by a dog. Bhairava originated in Hindu legends and is sacred to Hindus, Buddhists and Jains alike. He is worshiped in all over India and Nepal.
It might come as a surprise but there is a holy place of Shri Kaal Bhairav also known as Bhairav Baba in Ujjain (Madhya Pradesh) where alcohol is offered as offerings.
CREATION OF BHAIRAVA.
Brahma and Vishnu were disputing with each other for the status of supreme God and appealed to the testimony of the four Vedas, which proclaimed Rudra-Shiva as the Ultimate Truth of the Universe. But both the Gods were not in agreement with this and said things by which Shiva was offended. Out of anger Shiva created a blazing Bhairava in human form, addressing this Kalabhairava as "Lord of Time-Death". Then Bhairava ripped off Brahma's guilty head with the nail of his left thumb. Seeing this, the terrified Vishnu stopped his protest. Thereby they gained his protection by realizing and acknowledging the supreme reality of Shiva. The severed head immediately stuck to Bhairava's hand, where it remained in the form of the skull, destined to serve as his insatiable (impossible to satisfy) begging-bowl Shiva then directed Bhairava to roam the world in this beggarly condition to atone for the sin of Brahmahatya. Once Bhairava observed that "beggars are not intoxicated by the alms they receive as by drinking the wine of worldly honor."
When he arrived at Kashi, Brahmahatya sank into the nether-world, and the holy ground on which the skull fell, freeing Bhairava from his Brahmahatya, came to be known as Kapalamocana. It was on the eighth day (ashtami) in the dark (waning moon) half of the month of Margashirsha (Nov-15 to Dec 13) that Lord Shiva manifested himself as Bhairava. Ever since, by performing ablution (by washing oneself) at Kapalamocana one is rid of even the worst sin of brahmahatya; and whosoever fasts on this day (Bhairavashtami) in front of Kalabhairava (temple at Kashi) and stays awake at night is freed from great sins.
BHAIRAV'S Death
Shridhar was a devotee of Ma Vaishno Devi. Once Ma took the form of a girl, and the girl asked him to organise a big feast for the devotees of Vaishno Dev, Shridhar invited everyone including Bhairav Nath.
On the day of the feast three hundred and sixty people were invited and ate in his small hut. Bhairav Nath being Aghori ( ascetic Shaiva sadhus) asked  for Non Veg and Alcohol but Shridhar politely refused to provided that but as Bhairav was getting anger, Maa Vaishno intruded and told Bhairav that it's not allowed in her feast. Bhairav was surprised by the divine powers of the little girl and to know reality about the girl, he followed her to the Trikuta hills. For nine months he kept searching for her everywhere but couldn't find her.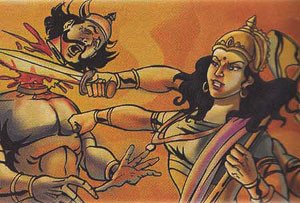 Then, one day he saw the girl proucing water from a stone by shooting it swiftly with an arrow. On seeing Bhairav she entered a cave. Bhairav Nath quickly followed her into the cave. With a trident she opened a path on the other end of the cave and left the cave. But Bhairav continued to follow her.
Finally, she took her real form and cut off  Bhairav Nath's head. Due to his powers, his head died but body remained alive. He begged the goddess for forgiveness. She not only forgave him but also gave him a boon that the devotees who would come to worship her in her holy cave would visit his temple thereafter.
Later a temple was built at the place where Bhairav's head fell.
BHAIRAVA AT UJJAIN
Liquor is offered to the temple deity as one of the five tantric ritual offerings known as Panchamakara: Madya (alcohol), Maansa (meat), Meena or Matsya (fish), Mudra (gesture) and Maithuna (sexual intercourse). In older times, all five offerings were made to the deity, but now only alcohol is offered; the other four offerings are in form of symbolic rituals.
This temple ritual starts with the devotee buying a bottle of wine or hard liquor like rum or whisky and presenting to the deity. The priest opens the bottles and put half of the contents into a shallow plate which is placed near the mouth of the idol.
Probably, this is the only God, to whom alcohol is offered in the temple. Tons of alcohol are given to the god in a day on festive periods. No one knows where this lots of bottles of alcohol does goes but it has been occurring since ages, as this temple is hundreds of years old. Even during the British rule their scientists tried to dig into the land to find the way where this alcohol is stored but they never found that. As we all say "Sab Prabhu ki Maya hai."